like many x-trans sensor camera users i've been following the various raw converter announcements with interest as well as fred's posts here about various tools. my general opinion of the matter is that fuji's sensor design unneccesarily complicates the demosaicing and nobody - fuji included - has gotten it right. i certainly hope someone will, since other attributes of the sensor and system - color, dynamic range, and noise levels - are all really excellent.
i revisited my earlier conclusions (use acr, don't use this camera for large prints or crops where the detail smearing is visible) with what seem to be the three most interesting raw converters currently. adobe camera raw, capture one, and lightzone, which as we all know now is based on david coffin's dcraw.
here's an overall shot, uncropped, unrotated (as you can see i blew the framing) and selected not because it's a great photo but simply because it has a range of elements. water, foliage, rocks, architecture, people, etc.
this is reduced to 1400 pixels wide in the hope that the forum software will make a decent 700 pixel version of it.
click to see the 1400 pixels.
adobe camera raw :
capture one :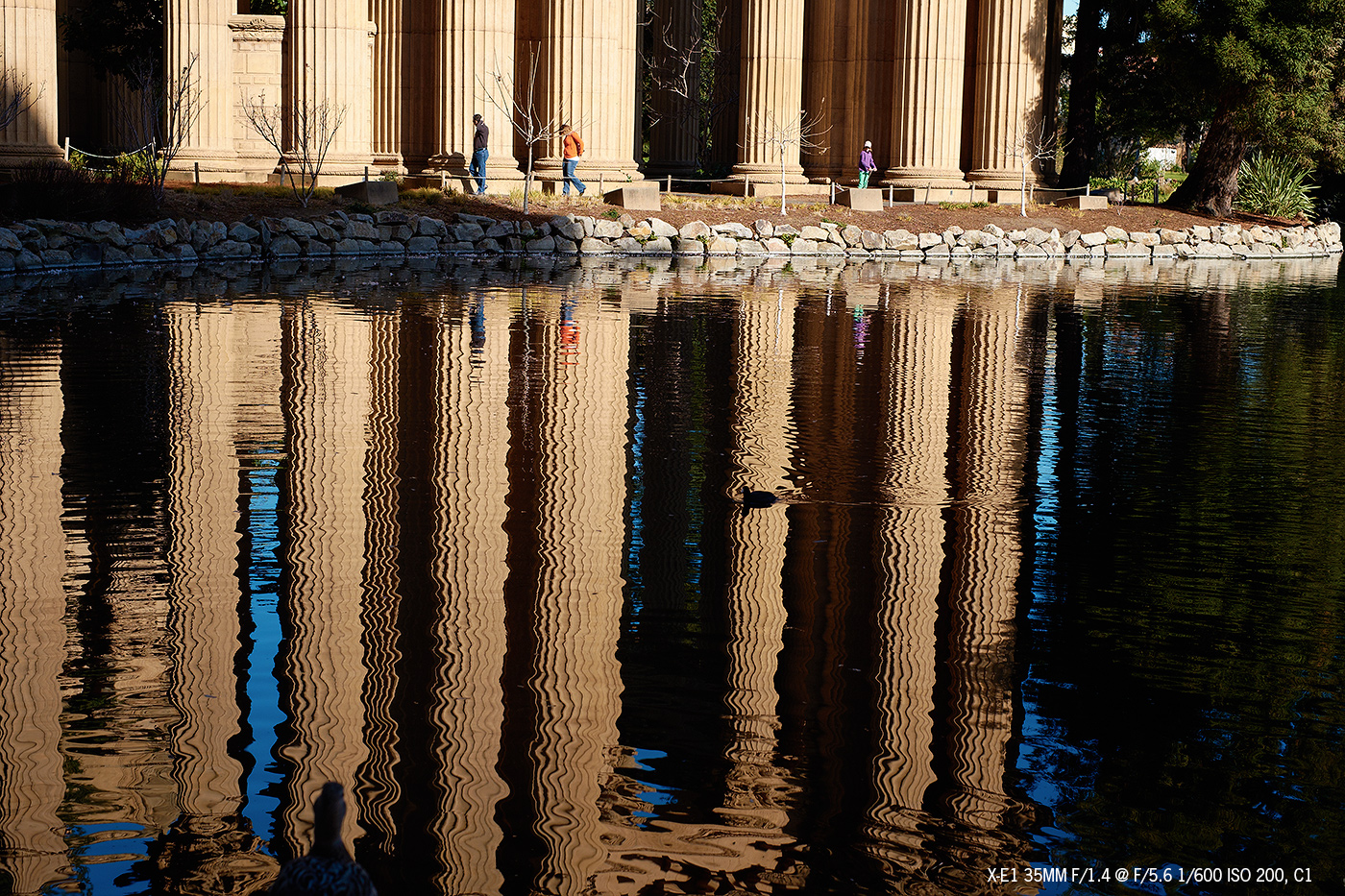 lightzone :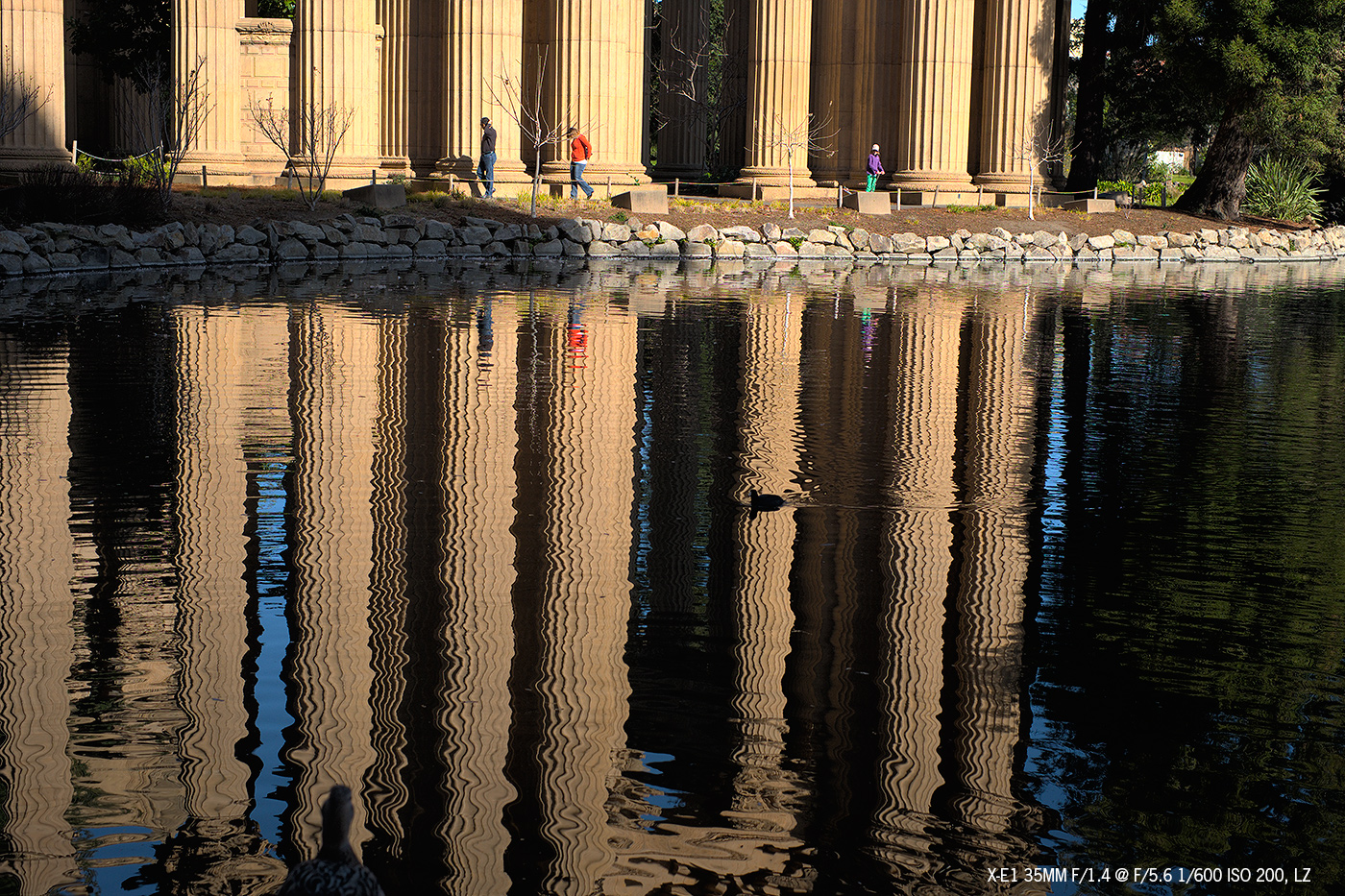 i attempted to get the overall coloration and tones to match. as you can see i was only partly successful but i think with time i could probably use any of these to achieve similar results on that front. my comments on the user interfaces and workflow :
ACR benefits enormously from the bridge browser/front end, which is unmatched for speed and reliability and flexbility. it makes lightzone and capture one feel like they're running on a bunch of hamsters on a wheel in a faraway land.
none of these processors require any sort of cataloging nonsense (a la lightroom). you just browse a folder and then open the files for processing.
once you get the image open for processing, the applications become fairly similar. ACR is far and away the fastest with immediate response to every adjustment in real time regardless of the scale of the image on screen. i prefer the sequence of panels presented by adobe but in general each application uses the same principles. the controls are arranged a little differently, and i personally prefer adobe's approach which has almost all the controls you need on two panels. one for color and tone, one for sharpness and noise. for many images, i don't use anything other than those two. both lightzone and capture one spread these functions out over a few more panels, but they also allow panels to be stacked up and seen all at once. the only notable variation between them is lightzone's "zone" panel, which basically replaces curves and/or shadow/highlight controls.
where they really vary - other than speed and cost - is how they demosaic the x-trans raw files. here are 1:1 crops of the same area of the image in the same sequence as above.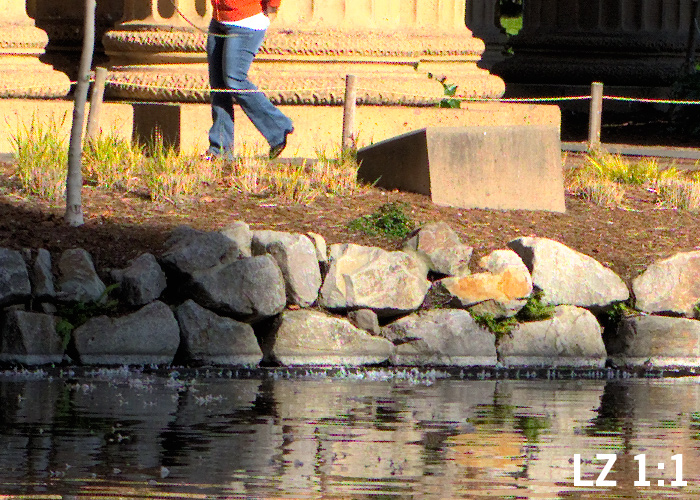 at this point, one can draw their own conclusions about which is the better approach. adobe has smeared and blurred over many fine details and created a painterly and entirely unpleasant effect on the rocks and foliage. note for example that there are small white specks in the water which are almost totally obliterated. the capture one version is better in the details, in particular the green reedy plants on the lake bank. take a look at the one at far left. adobe's doesn't even really look like a plant any more, whereas capture one's does.
it's a little harder to characterize lightzone's approach. the smeary, posterized look of the rocks is gone. the foliage (take again a look at the plant at far left) lacks the detail of capture one's, but is somewhat more natural looking than adobe. however, all sharp or high contrast edges are speckled with multicolored single pixel artifacts, to the point that fine vertical or horizontal structures (take a look at the vertical stalks in front of the shadow side column base about 1/5 from the left side of the frame) are represented as dotted or dithered lines. in areas with lots of detail, this repeating pattern (every 6 pixels) is extremely obnoxious.
printed at 18" in width, all of these artifacts are clearly visible to my eye. printed at 12" in width, they all look more or less fine with a slight edge to capture one, then lightzone since resampling by half eliminates their smaller scale artifacts more definitively.
finally, just for kicks, here's fuji's jpg. it has neither the dithery brightly colored speckles OR the smudged painter effect, but is a little soft overall. looking at this again actually gives me a bit more hope that someone will do a better job than the current candidates at demosaicing this thing: