187 Users Online
23 members and 164 guests are currently online
arthurking83, Akira, tommiejeep, longzoom, armando_m, RC51, Alpinweiss, pac, Glider, rbsandor, Phosphor, Airy, Tom Hook, iek, George B, Lowell, STS, Ross, lloyd, Rick Popham, willl, Lorne, Rags
Description:
28mm f/3.5 AIS PC-Nikkor
Suitable For:
Architectural Photography
Camera Formats:
FX and DX
Specs:
Focal length: 28mm
Maximum aperture: 3.5
Minimum aperture: 22
Angle of View: 92°
Focus Throw: unknown
Maximum reproduction ratio: 1:6.7
Lens Elements: 9
Lens Groups: 8
Diaphragm Blades: 9
ED Glass Elements: 0
Autofocus: n/a
Minimum Focus Distance: 0.3m
Filter Size: 72mmØ
Filter Type: front screw in
Dimensions: 78mmØ by 64.5mm
Weight: 380g
Accessories: HN-9 lens hood
Bjørn's Rørslett's Overview:
A shifting feature distinguishes this speciality lens. The optical system projects an enlarged image circle to allow the lens to be shifted up to 11 mm away from the axis. This allows for correction of converging verticals and thus solves a common problem in architectural photography. The PC 28 is a slow-working lens, firstly due to its preset aperture control, and secondly due to the need for metering with the lens in a neutral position; you cannot shift the lens and then meter with the camera as usual. The latter restriction apply to all shift lenses (also to those made for Canon cameras, if you don't mind being told the truth).
If you slow your shooting to the pace dictated by this lens, you are rewarded with excellent image quality. Premium results are obtained at f/8-f/11, but the lens render acceptable image quality even at f/22. There however is noticeable colour fringing (of the bluish type) in the corners when the lens is shifted to its maximum extent.
On the digital bodies, purple or reddish colour fringing occurs in the direction of maximum shift. So it is advised not to let the lens travel to the extreme limits of shift.
I found many years ago that the PC 28 could be converted to a true tilt/shift (TS) lens, which would be much more useful to me for nature photography. A picture of the converted TS 28 is shown below: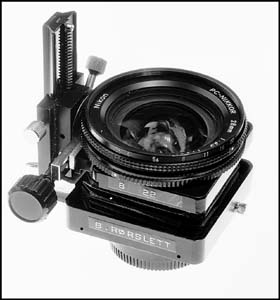 In it's normal position, the lens reaches 1:1.5 magnification.
The tilted position. Up to 45º tilt is possible, and can be applied as front or rear movements. Combined with up to approx. 11 mm of shift, this makes for unbelievable perspectives.
Sometimes, a little extraordinary of endeavour is needed ... I felt this way when I involved myself in modifying the PC-Nikkor 28 mm to have full tilt/shift capabilities. Once the lens was disassembled there was no turning back, so I soldiered on to make this experimental set-up become operational. And did it work - oh yes...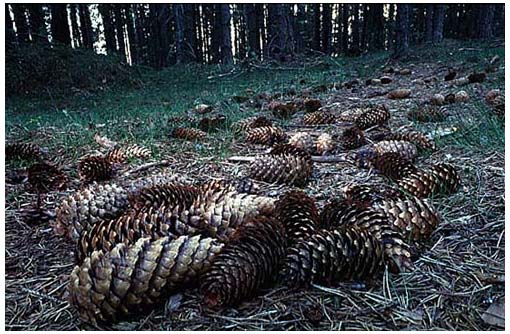 © Bjørn Rørslett/NN
Remember - perspective is determined by the camera's position. If the focused distance is very short, a correspondingly steep perspective results. However, there is no way using an ordinary lens to get everything into focus at these short ranges. Enter the 28 PC, with its close-focusing and huge tilt/shift capabilities.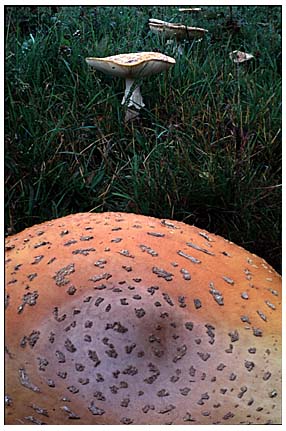 © Bjørn Rørslett/NN
After some time, I acquired other PC and shift/tilt lenses besides my 28 PC-Nikkor. I now have a 35 mm f/2.8 PC-Nikkor (shift), a second 28 mm f/3.5 PC-Nikkor (shift only), a Canon 35 mm f/2.8 TS (tilt/shift) modified for Nikon "F" mount, and a 85 mm f/2.8 PC Micro-Nikkor (shift, tilt, and close-up capability). To make these lenses better adapted to the new generation of Nikon bodies, I have upgraded all of them (except the Canon lens and the 85 PC) with matrix chips. This allows the chip-modified lenses to meter with all programmed and auto metering modes on my D1-series cameras, as well with my F5. The new 85 mm f/2.8 PC Micro-Nikkor, being an AI-P and D chip lens by design, needs no conversion except for having its tilt axis reorientated to coincide with the shift axis; this alteration enhances its practical usefulness in the field.
On the D1-series cameras, my 28 mm tilt/shift lens is quite cumbersome to mount because the finder cannot be removed. You cannot rapidly swap lenses when the 28 TS is mounted. This is no big drawback since working with tilt/shift lenses calls for a slow and contemplated approach to the subject, no matter which format (digital or view camera) is used for the shots.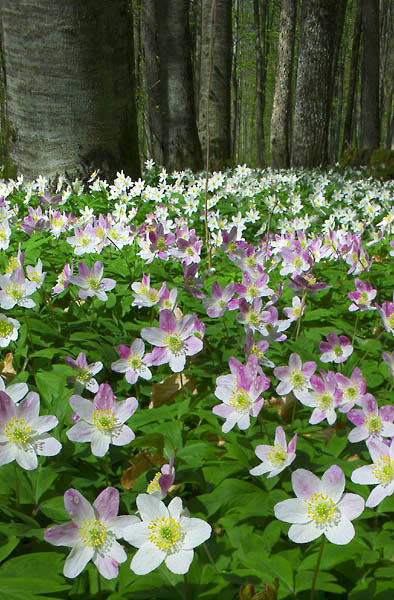 Wood Anemones (Anemone nemorosa) in a Beech forest at spring time. Getting this extended depth of field is a breeze with a tilt lens.
Nikon D1, 28 mm f/3.5 PC-Nikkor (modified) tilt/shift
© Bjørn Rørslett/NN
Final note:
I do not convert PC lenses for other people. Neither do I recommend contemplating a conversion of such lenses unless you have a supply of adequate parts, and are willing to risk permanently damaging the lens (it has to be split apart in order to remove the lens elements from the focusing helicoid). I used a Hama bellows with tilt/shift capabilities for my project. Converting a Canon 35 mm f/2.8 TS lens to "F" mount is the simpler approach, and less expensive as an added bonus.
Bjørn's Rating:
4 (F5)
4 (D1, D1X, D2H)
3.5-4 (D2X)
Useful links:
Rate it yourself & read other member's ratings
Discuss this lens with Bjørn
28mm f3.5 AIS PC-Nikkor