Until recently, Sony did not have a serious E-mount zoom lens. This new Sony/Zeiss 16-70mm zoom lens is a step in that direction. Using a 55mm filter, it is small and compact enough to be used with the NEX cameras. Its compact size can best be appreciated in this side-by-side photo with the Sony/Zeiss 24mm f/1.8. If this performs well, Sony would then again have made inroads against CaNikon which does not have such a lens. Sony has also released a compact sized 16mm f/2.8 and 24mm f/1.8 which are not available from CaNikon.

On the other extreme hand in terms of size (but not in weight) is the new large-sized Sony 18-105mm f/4 zoom. In addition to optical stabilization, this lens has a power zoom for use in video recording. The likely target market for this zoom are E-mount Sony video cameras. Its f/4 aperture however is barely fast enough for many low light / indoor video use.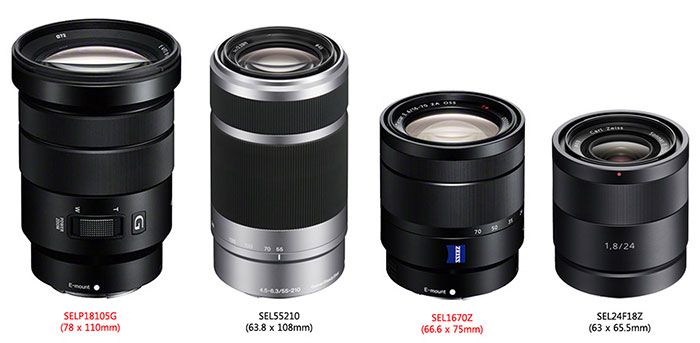 Spec of 16-70mm F4 ZA OSS Vario-Tesser T * E- 16 lenses in 12 groups
- Minimum focusing distance 0.35m
- maximum magnification 0.23 times
- Filter diameter 55mm
- Total length 75mm, maximum diameter of 66.6mm
- 308g Weight
Spec of 18-105mm F4 G OSS E PZ- 16 lenses in 12 groups
- Closest focus point: wide end 0.45m, tele end 0.95m
- maximum magnification 0.11 times
- Filter diameter 72mm
- Total length 110mm, maximum diameter of 78mm
- 427g Weight
Edited by Larry, 26 August 2013 - 08:32 AM.